Teen Track
​"The world offers you comfort. But you were not made for comfort. You were made for greatness" -Benedict XVI, Pope-Emeritus
Please check back here for updates to the 2019 Teen Track!
2018 Teen Track Schedule
9:30 Fr. Tony Hollowell - "Become Your Own Catechist"
11:00 Mass
12:00 Lunch - Games/Rosary Making
1:00 Stephanie Engelman - "Not Your Mother's Rosary"
2:00 Service Project
3:30 Phil Campbell - "Making Your Way In The World Today Takes Everything You Got"
4:30 Guys and Girls separate breakout sessions
5:30 Tour of Marian University
Please make sure to register your teen for this event so that we can have an accurate headcount for pizza and goodie bags.

This year's featured Teen Track speakers are Fr. Tony Hollowell, Phillip Campbell, Katie Sahm, and Stephanie Engelman. The Teen Track will include Mass celebrated by Fr. Hollowell at 11:00 AM.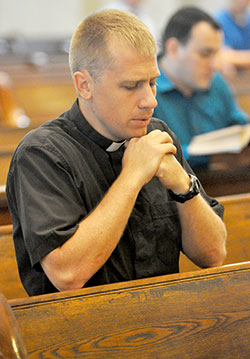 Fr. Tony Hollowell was born in Indianapolis and is the third oldest in a family of eleven children. Fr. Hollowell was homeschooled thru 5th grade. He graduated from Roncalli High School in 2000 and then attended the University of Notre Dame, where he graduated with degrees in Environmental Science and Theology in 2004. He then entered Notre Dame's ACE program and taught in Biloxi, Mississippi for two years, graduating with a Masters in Education in 2006. He taught for two more years at Cardinal Ritter High School in Indianapolis, and after a year of sabbatical, he entered the seminary for the Archdiocese of Indianapolis. He studied at Saint Meinrad for two years, earning a Masters in Catholic Philosophical Studies in 2012. He then went to the Pontifical North American College in Rome, earning a Baccalaureate in Sacred Theology from the Pontifical Gregorian University in 2015. He then earned a Licentiate in Moral Theology from the Accademia Alfonsiana in 2017, and he is currently working on the completion of a Doctorate in Moral Theology. He now serves as Associate Pastor at Our Lady of Greenwood in the Archdiocese of Indianapolis.
Phillip Campbell holds a BA in European History from Ave Maria University and a certificate in Secondary Education through Madonna University. He taught history and Scripture for the St. Augustine Homeschool Enrichment Program for ten years. Mr. Campbell is the author of the popular " Story of Civilization" series by TAN Books. He recently joined the Catholic History Textbook Project. Mr. Campbell's writings have appeared in the St. Austin Review and The Distributist Review. He is also the star of the YouTube sensation History in a Minute. Mr. Campbell served as the Mayor of Howell, MI from 2011 to 2015 and has been involved in homeschooling for more than 15 years.
Hello! My name is Stephanie Engelman., and I am a Catholic, a wife and mother of five beautiful children. I'm also an inspirational speaker and the author of the award-winning book, A Single Bead. I am a 'born again" Catholic convert, having been a lukewarm Protestant for the first 30 years of my life. While I will always be "a few beads short" of a full Rosary, I continue to strive for perfection and holiness.In November 2015, my husband, Ray, suffered a near-fatal heart attack and subsequent critical brain injury. Through it all, faith in our awesome, loving God gave me peace – and even joy – beyond all understanding. Having been thus blessed by the peace of Christ, I'm committed to sharing his message of love, mercy and joy. Check out the "appearances" page for upcoming speaking events where you can learn more about our story and – I hope – grow in your own knowledge of Christ's love and message of hope. And, of course, please contact me if you're interested in having me speak at an upcoming event, book club, or in your school. My book, A Single Bead, recently received awards from the Catholic Press Association and the Association of Catholic Publishers. It is a story of faith awakened by prayer. I wrote it before my husband's heart attack, but the central theme of the importance of faith and prayer through difficult circumstances have been instrumental to me through the last two years. I hope you'll enjoy reading it, and will share it with those you love!
Featured talk by Stephanie Engelman
This Isn't Your Mother's Rosary (Teen Track)
Why has a long list of saints of turned to this one single devotion? Why did Padre Pio call it his "weapon" of choice? How did it save the lives of four priests in Hiroshima, a young girl in Rwanda, and a mother in Indianapolis? In this talk, Stephanie Engelman, author of the book, A Single Bead, will use Biblical, historical, and personal examples to illustrate why the Rosary is the devotion for our times.
Katie Sahm, lives and works in Indianapolis, spending most of her time painting, taking photographs, and attempting to make the world a more beautiful place one day at a time. Her past experience had her teaching high school art and theology, working in youth and young adult ministry, traveling across the world, and creating all along the way. In 2017 she started her own business and began working as an artist full time. ​ Katie works in a variety of mediums, but all her pieces reflect her deep love for her Catholic faith. It is this faith that motivates her to lift up what is true, good, and beautiful in every piece she creates. Katie hopes that this work will give others inspiration and encouragement as they journey through this life and hope in the one to come.
Featured Talk by Katie Sahm
A Call to Beauty
Colonel Trey Fuller, USAF (ret), is a graduate of the United States Airforce Academy and received his Masters Degree in Engineering from Purdue University. After graduating from pilot training, Col. Fuller went on to fly the F-16 Fighting Falcon. Col. Fuller has over 1300 hours of flight time in the F-16 and has logged over 2000 total hours in military aircraft. Over his 24 ½ year Airforce career, Col. Fuller has been an instructor pilot, flight test engineer, squadron commander, joint staff officer and group commander. Col. Fuller served two deployments in support of Operation Iraqi Freedom. In addition, Col. Fuller has been stationed all over the U.S. to include Alaska as well as Korea and Germany. A convert to Catholicism, Trey is married to his best friend Wendy, and together they have been blessed with four children.
Featured talks by Col. Trey Fuller
Just War Theory